Taught by one of the Serve the City Paris team leaders Peter DeWit,  this seminar encourages participants to reflect on the lives and struggles of the people they are helping during the programme. The seminar has two main components, the first being a detailed account of the journey that refugees take to come to Europe. This journey is often harrowing and dangerous, and many of our beneficiaries have lost friends through this experience.
The seminar then discusses the process of asylum in Europe, and in particular in France. This process is difficult and lengthy, and many beneficiaries have been rejected in multiple European countries before coming to France. You will learn more about this process, and have a chance to reflect on what it's like to be in the situation of some of our beneficiaries.
Peter brings with him many stories of compassion and hope through troubled times, and will share these stories throughout the seminar, with the hope of adding a 'human' face to the people we often walk past every day in the streets.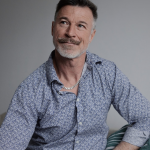 About Peter
Peter DeWit is a Dutch born Canadian, father of five, and comes to us with 27 years of overseas experience in Asia and Europe. He was instrumental in setting up a sponsorship program for disadvantaged children in Thailand and Cambodia, served as Chairman of the Board at Agape Home, a hospice and home for nearly 100 children born with HIV virus, and has been involved with many different ministries among Youth and Church leaderships in Asia and Europe. Today Peter is based out of Paris, France while continuing to take teams to Asia. He has a heart to bring hope, help and dignity to the refugee community in Paris. As well, he enjoys speaking at different events as opportunity presents.