SAVE AMBASSADOR CERTIFICATION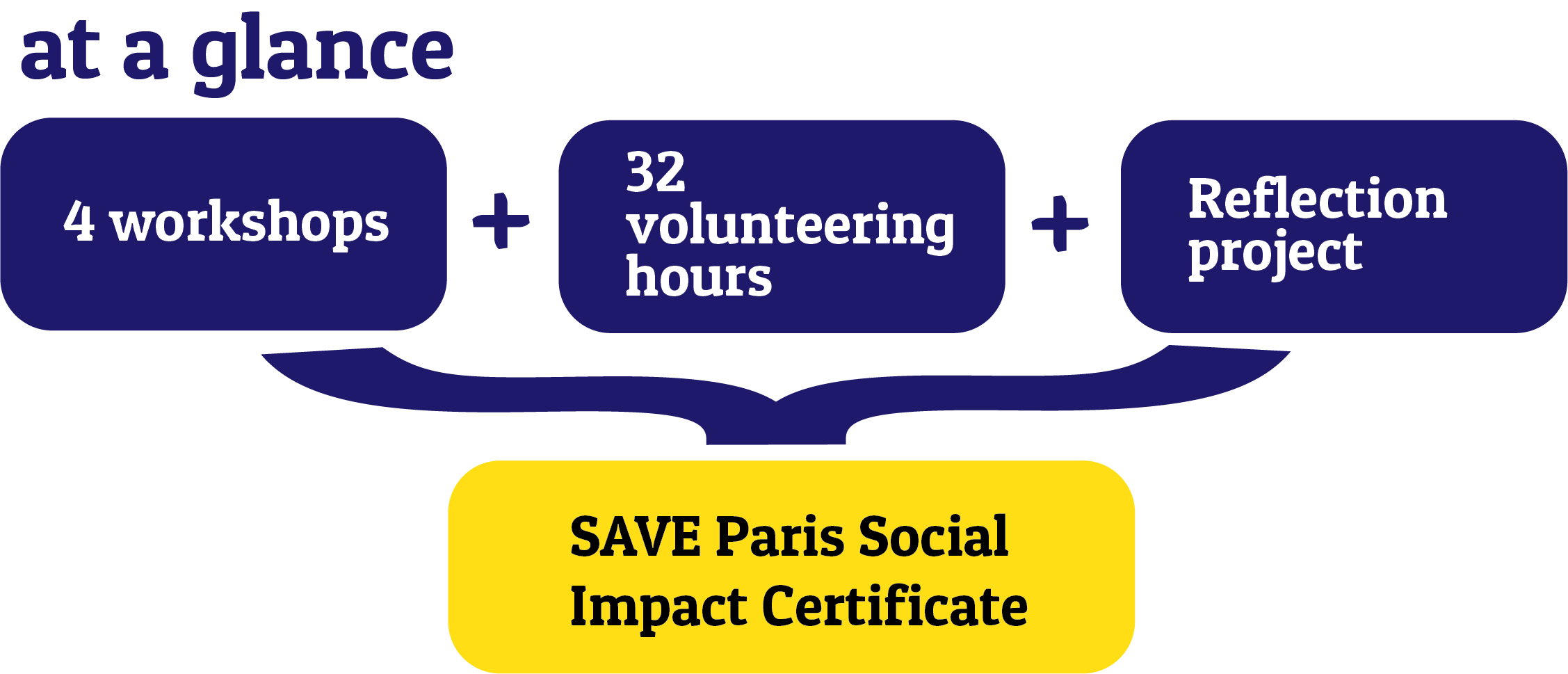 When you complete the full SAVE Ambassador program, you will receive a Serve the City 'Certificate of Benevolence', a Letter of Testimonial from the STCP Executive Director, and the posting of your reflection project on our social media channels.

The SAVE Certification is a great addition to anyone's career objectives in social services, or for general employment.  Companies across the world are looking for employees who are well rounded, and have participated in activities that have a positive impact on society.    Submit your SAVE Certificate of Benevolence and a Letter of Testimonial along with your CV, when looking to gain employment or advance your career. 

For more information on each component, click on the relevant button below:
Important information for the Certification Program

The SAVE certification Program is not only for volunteers who live in, or plan to visit Paris, but also for those who live in big cities internationally.

Once you sign up for the SAVE program, a Serve the City team leader can provide you with the required documentation, and talk to you about how you can confirm your participation of 32 hours of volunteer work in Paris or in your own city, while taking 4 of our SAVE workshops (on-line or in class) and offered regularly, and by submitting your final SAVE reflection project.

Each SAVE Ambassador who completes the SAVE program in Paris or abroad, will receive the following:

A letter of Testimonial from the Executive Director of Serve the City Paris
A Serve the City "Certificate of Benevolence"
The posting of your project on Serve the City Paris social media channels (Facebook, Instagram, YouTube, WhatsApp and LinkedIn).

The Certification program costs 140 euros to participate, which grants you complimentary access to all SAVE Workshops (on-line or in class), the testimonial letter, the customized certificate of Benevolence and a short consultation from a STCP Team leader on how to create a "Reflection Project".

For more information, feel free to send an email to save@servethecity.paris.